NUSTONE QUARTZ and the Story of Your Life
Amy Stone
2016 Paint Colors of the Year
Benjamin Moore and Glidden have made off-white hues their "color of the year" for 2016, while Sherwin-Williams and Behr are each showing off-white in their 2016 color trend forecasts. Read about it here in houzz. I've chosen one of the 2016 favorites, Simply White by Benjamin Moore to pair with another very exciting combo I have discovered. White is the silent hero, setting the stage for every other element. Neutral and classic, white is the perfect vehicle to transport you through your design exploration.

NUSTONE QUARTZ Shaking Up the Industry
I have been focusing on the NUSTONE QUARTZ Caramel design because of the buzz it is creating in the marketplace and I was curious about it's possibilities. Caramel looks just like its name, smooth and creamy. But then into the velvety smooth buttery swirls somebody tossed red pepper flakes. These spicy red flecks create a sweet/spicy combination that has you begging for more. And who is more perfect to bring the "More" than the house of designer Ralph Lauren. Ralph Lauren Paint has created a specialty finish that they call Polished Patina.

Polished Patina is Ralph Lauren's exclusive finish that is a sophisticated antiqued look created by layering the Polished Patina topcoat over a basecoat of Ralph Lauren Eggshell Interior Paint.
Ralph Lauren and NUSTONE QUARTZ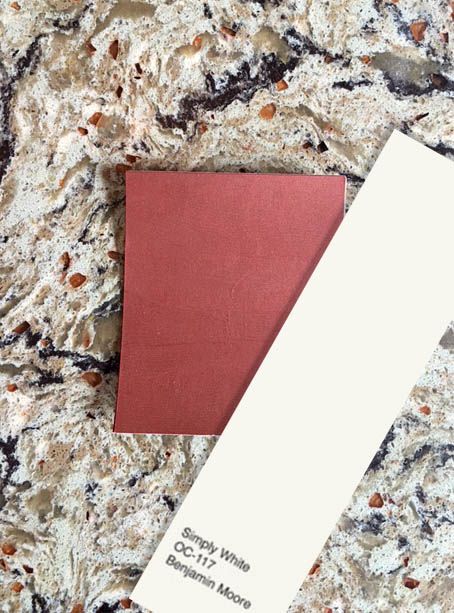 Partners in Color and Movement
Ralph Lauren Polished Patina in Scarlet Verona is perfect with NUSTONE QUARTZ Caramel countertops. Scarlet Verona picks up the spicy red flecks to move together in a sexy and tightly choreographed tango. I imagine painting the cabinets and all but one wall with Simply White, keeping one wall to showcase the beautiful Polished Patina in the Scarlet Verona treatment. Simply White, Scarlet Verona, and Caramel
Perhaps the base cabinets under the island could sport the dark basecoat of Scarlet Verona as well, and a stylish standalone piece could wear basic black. That's what I'm picturing! I shared where the look of NUSTONE QUARTZ Caramel took my imagination. Where does it take yours? There are just so many possibilities to be discovered with NUSTONE QUARTZ! Visit our website to experience our colors and set your imagination free.